Volume Two, Issue One: October 2021 (below)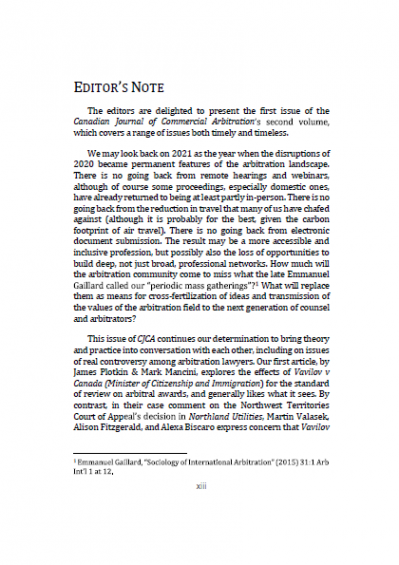 Author

Joshua Karton

Pages

xiii-xiv

Introduction

The editors are delighted to present the first issue of the Canadian Journal of Commercial Arbitration's second volume, which covers a range of issues both timely and timeless. We may look back on 2021 as the year when the disruptions of 2020 became permanent features of the arbitration landscape. There is no going back from remote hearings and webinars, although of course some proceedings, especially domestic ones, have already returned to being at least partly in-person. There is no going back from the reduction in travel that many of us have chafed against (although it is probably for the best, given the carbon footprint of air travel). There is no going back from electronic document submission. The result may be a more accessible and inclusive profession, but possibly also the loss of opportunities to build deep, not just broad, professional networks. How much will the arbitration community come to miss what the late Emmanuel Gaillard called our "periodic mass gatherings"?1 What will replace them as means for cross-fertilization of ideas and transmission of the values of the arbitration field to the next generation of counsel and arbitrators?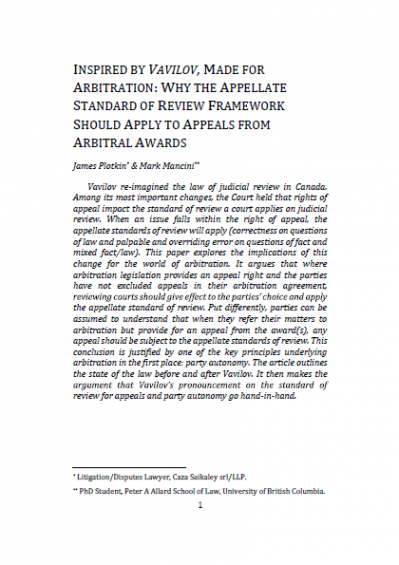 Author

James Plotkin & Mark Mancini

Pages

1 – 41

Abstract

Vavilov re-imagined the law of judicial review in Canada. Among its most important changes, the Court held that rights of appeal impact the standard of review a court applies on judicial review. When an issue falls within the right of appeal, the appellate standards of review will apply (correctness on questions of law and palpable and overriding error on questions of fact and mixed fact/law). This paper explores the implications of this change for the world of arbitration. It argues that where arbitration legislation provides an appeal right and the parties have not excluded appeals in their arbitration agreement, reviewing courts should give effect to the parties' choice and apply the appellate standard of review. Put differently, parties can be assumed to understand that when they refer their matters to arbitration but provide for an appeal from the award(s), any appeal should be subject to the appellate standards of review. This conclusion is justified by one of the key principles underlying arbitration in the first place: party autonomy. The article outlines the state of the law before and after Vavilov. It then makes the argument that Vavilov's pronouncement on the standard of review for appeals and party autonomy go hand-in-hand.
Author

Kathleen Paisley

Pages

42-101

Abstract

International arbitration as practiced today is largely a digitalized process. Documents are exchanged virtually, whether through email or by way of digital platforms, and hearings and case management conferences are increasingly held remotely. This trend has been greatly amplified by the COVID-19 pandemic, which created a need to move swiftly to on-line platforms not only for the exchange of documents but for all aspects of the proceedings including merits hearings. The agility that was displayed by everyone from counsel to arbitrators to institutions is a testament to the flexibility of international arbitration as a dispute resolution mechanism.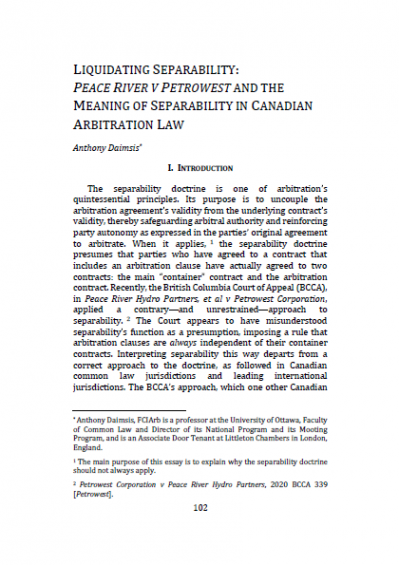 Author

Anthony Daimsis

Pages

102-134

Abstract

The separability doctrine is one of arbitration's quintessential principles. Its purpose is to uncouple the arbitration agreement's validity from the underlying contract's validity, thereby safeguarding arbitral authority and reinforcing party autonomy as expressed in the parties' original agreement to arbitrate. When it applies, the separability doctrine presumes that parties who have agreed to a contract that includes an arbitration clause have actually agreed to two contracts: the main "container" contract and the arbitration contract. Recently, the British Columbia Court of Appeal (BCCA), in Peace River Hydro Partners, et al v Petrowest Corporation, applied a contrary—and unrestrained—approach to separability. The Court appears to have misunderstood separability's function as a presumption, imposing a rule that arbitration clauses are always independent of their container contracts. Interpreting separability this way departs from a correct approach to the doctrine, as followed in Canadian common law jurisdictions and leading international jurisdictions. The BCCA's approach, which one other Canadian court has already cited favourably, should be rejected. It opens the door to unintended consequences, and raises specific concerns about how receivers may "pick and choose" whether to enforce existing liability provisions, like arbitration clauses, that are housed in executed contracts. A further drawback to the BCCA's approach is that it leaves contract debtors uncertain about the enforceability of arbitration agreements contained in their contracts.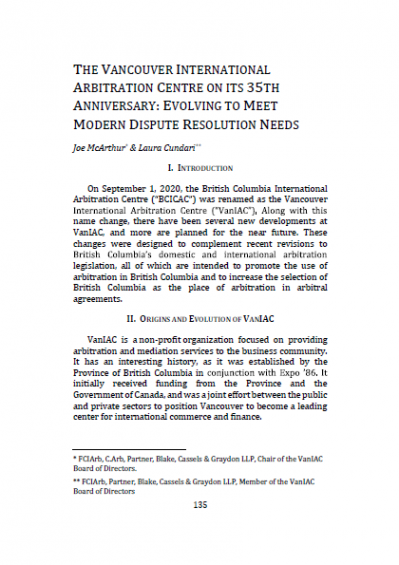 Author

Joe McArthur & Laura Cundari

Pages

135-141

Abstract

On September 1, 2020, the British Columbia International Arbitration Centre ("BCICAC") was renamed as the Vancouver International Arbitration Centre ("VanIAC"). Along with this name change, there have been several new developments at VanIAC, and more are planned for the near future. These changes were designed to complement recent revisions to British Columbia's domestic and international arbitration legislation, all of which are intended to promote the use of arbitration in British Columbia and to increase the selection of British Columbia as the place of arbitration in arbitral agreements.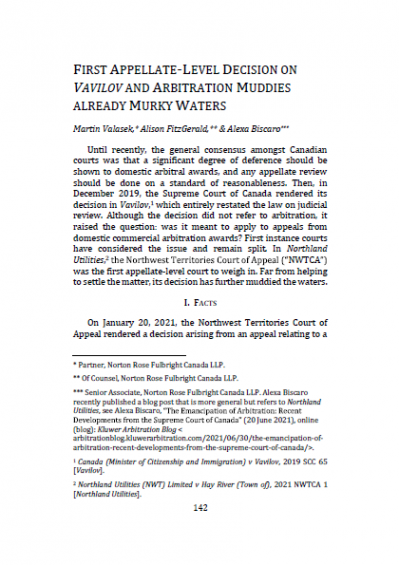 Author

Martin Valasek, Alison FitzGerald, & Alexa Biscaro

Pages

142-149

Abstract

Until recently, the general consensus amongst Canadian courts was that a significant degree of deference should be shown to domestic arbitral awards, and any appellate review should be done on a standard of reasonableness. Then, in December 2019, the Supreme Court of Canada rendered its decision in Vavilov, which entirely restated the law on judicial review. Although the decision did not refer to arbitration, it raised the question: was it meant to apply to appeals from domestic commercial arbitration awards? First instance courts have considered the issue and remain split. In Northland Utilities, the Northwest Territories Court of Appeal ("NWTCA") was the first appellate-level court to weigh in. Far from helping to settle the matter, its decision has further muddied the waters.