Volume One, Issue Two: April 2021 (below)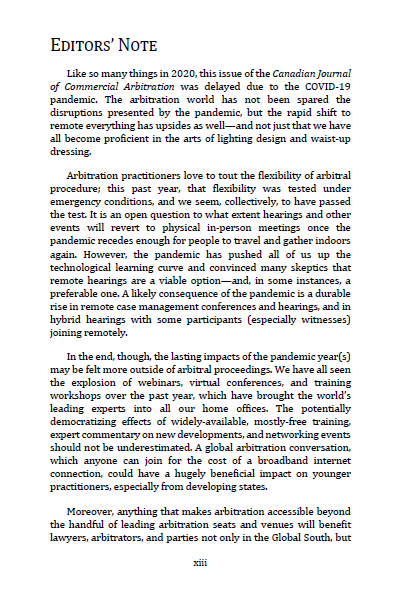 Author

Joshua Karton

Pages

xiii-xv

Introduction

Like so many things in 2020, this issue of the Canadian Journal of Commercial Arbitration was delayed due to the COVID-19 pandemic. The arbitration world has not been spared the disruptions presented by the pandemic, but the rapid shift to remote everything has upsides as well—and not just that we have all become proficient in the arts of lighting design and waist-up dressing.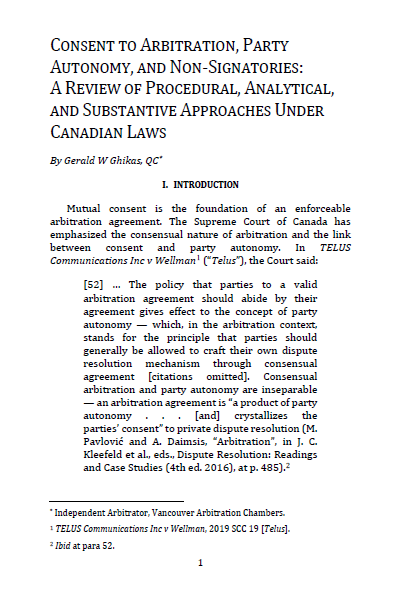 Author

Gerald W Ghikas QC

Pages

1 – 84

Introduction

Mutual consent is the foundation of an enforceable arbitration agreement. The Supreme Court of Canada has emphasized the consensual nature of arbitration and the link between consent and party autonomy. In TELUS Communications Inc v Wellman ("Telus"), the Court said: [52]… The policy that parties to a valid arbitration agreement should abide by their agreement gives effect to the concept of party autonomy — which, in the arbitration context, stands for the principle that parties should generally be allowed to craft their own dispute resolution mechanism through consensual agreement [citations omitted]. Consensual arbitration and party autonomy are inseparable — an arbitration agreement is "a product of party autonomy . . . [and] crystallizes the parties' consent" to private dispute resolution (M. Pavlović and A. Daimsis, "Arbitration", in J. C. Kleefeld et al., eds., Dispute Resolution: Readings and Case Studies (4th ed. 2016), at p. 485).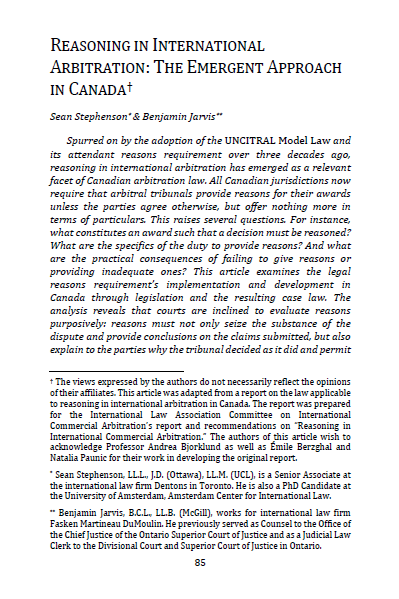 Author

Sean Stephenson & Benjamin Jarvis

Pages

85-143

Abstract

Spurred on by the adoption of the UNCITRAL Model Law and its attendant reasons requirement over three decades ago, reasoning in international arbitration has emerged as a relevant facet of Canadian arbitration law. All Canadian jurisdictions now require that arbitral tribunals provide reasons for their awards unless the parties agree otherwise, but offer nothing more in terms of particulars. This raises several questions. For instance, what constitutes an award such that a decision must be reasoned? What are the specifics of the duty to provide reasons? And what are the practical consequences of failing to give reasons or providing inadequate ones? This article examines the legal reasons requirement's implementation and development in Canada through legislation and the resulting case law. The analysis reveals that courts are inclined to evaluate reasons purposively: reasons must not only seize the substance of the dispute and provide conclusions on the claims submitted, but also explain to the parties why the tribunal decided as it did and permit for effective judicial review. Given the experience in the domestic arbitration context, there is another related question: whether the more general approach to reasoning standards applicable to other adjudicators in Canada may also come to inform the reasoning requirement in international arbitration. Regardless of the particular contents of reasons adequacy, however, a want of reasons is not in and of itself a ground for Canadian courts to interfere with an international award. Parties must rather frame this omission within the grounds provided by applicable legislation. Furthermore, Canadian courts seized of set-aside and recognition and enforcement matters will seek to ensure the finality of awards. Case law suggests that courts will not interfere with an insufficiently reasoned award unless said defect impacts the award's outcome or prevents its outcome from being ascertained.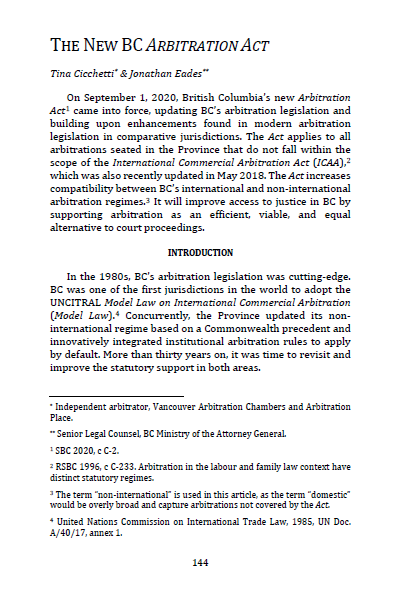 Author

Tina Cicchetti & Jonathan Eades

Pages

144-162

Abstract

On September 1, 2020, British Columbia's new Arbitration Act came into force, updating BC's arbitration legislation and building upon enhancements found in modern arbitration legislation in comparative jurisdictions. The Act applies to all arbitrations seated in the Province that do not fall within the scope of the International Commercial Arbitration Act (ICAA), which was also recently updated in May 2018. The Act increases compatibility between BC's international and non-international arbitration regimes. It will improve access to justice in BC by supporting arbitration as an efficient, viable, and equal alternative to court proceedings.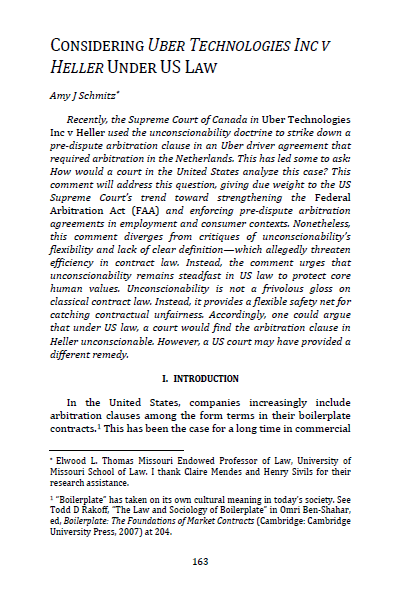 Author

Amy J Schmitz

Pages

163-181

Abstract

Recently, the Supreme Court of Canada in Uber Technologies Inc v Heller used the unconscionability doctrine to strike down a pre-dispute arbitration clause in an Uber driver agreement that required arbitration in the Netherlands. This has led some to ask: How would a court in the United States analyze this case? This comment will address this question, giving due weight to the US Supreme Court's trend toward strengthening the Federal Arbitration Act (FAA) and enforcing pre-dispute arbitration agreements in employment and consumer contexts. Nonetheless, this comment diverges from critiques of unconscionability's flexibility and lack of clear definition—which allegedly threaten efficiency in contract law. Instead, the comment urges that unconscionability remains steadfast in US law to protect core human values. Unconscionability is not a frivolous gloss on classical contract law. Instead, it provides a flexible safety net for catching contractual unfairness. Accordingly, one could argue that under US law, a court would find the arbitration clause in Heller unconscionable. However, a US court may have provided a different remedy.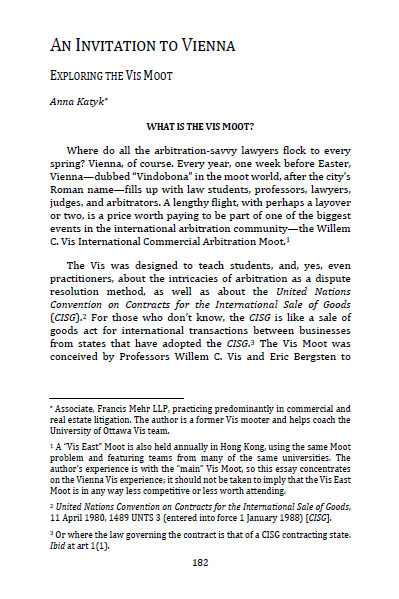 Author

Anna Katyk

Pages

182-188

Introduction

Where do all the arbitration-savvy lawyers flock to every spring? Vienna, of course. Every year, one week before Easter, Vienna—dubbed "Vindobona" in the moot world, after the city's Roman name—fills up with law students, professors, lawyers, judges, and arbitrators. A lengthy flight, with perhaps a layover or two, is a price worth paying to be part of one of the biggest events in the international arbitration community—the Willem C. Vis International Commercial Arbitration Moot.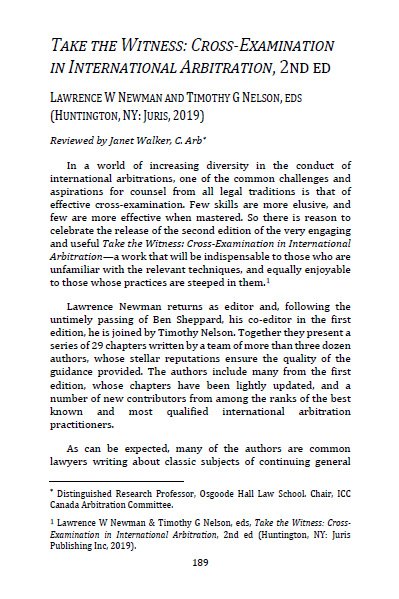 Author

Janet Walker

Pages

189 – 196

Introduction

In a world of increasing diversity in the conduct of international arbitrations, one of the common challenges and aspirations for counsel from all legal traditions is that of effective cross-examination. Few skills are more elusive, and few are more effective when mastered. So there is reason to celebrate the release of the second edition of the very engaging and useful Take the Witness: Cross-Examination in International Arbitration—a work that will be indispensable to those who are unfamiliar with the relevant techniques, and equally enjoyable to those whose practices are steeped in them.