Volume Two, Issue Two: April 2022 (below)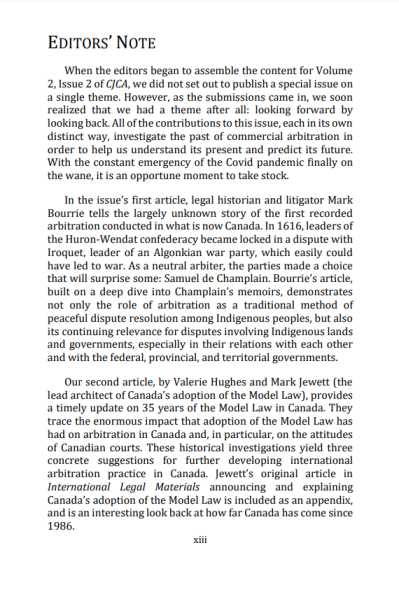 Author

Joshua Karton

Pages

xiii-xiv

Introduction

When the editors began to assemble the content for Volume 2, Issue 2 of CJCA, we did not set out to publish a special issue on a single theme. However, as the submissions came in, we soon realized that we had a theme after all: looking forward by looking back. All of the contributions to this issue, each in its own distinct way, investigate the past of commercial arbitration in order to help us understand its present and predict its future. With the constant emergency of the Covid pandemic finally on the wane, it is an opportune moment to take stock.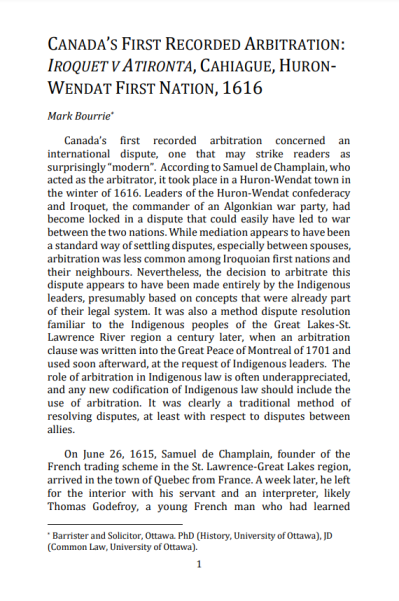 Author

Mark Bourrie

Pages

1 – 13

Abstract

Canada's first recorded arbitration concerned an international dispute, one that may strike readers as surprisingly "modern".  According to Samuel de Champlain, who acted as the arbitrator, it took place in a Huron-Wendat town in the winter of 1616. Leaders of the Huron-Wendat confederacy and Iroquet, the commander of an Algonkian war party, had become locked in a dispute that could easily have led to war between the two nations. While mediation appears to have been a standard way of settling disputes, especially between spouses, arbitration was less common among Iroquoian first nations and their neighbours. Nevertheless, the decision to arbitrate this dispute appears to have been made entirely by the Indigenous leaders, presumably based on concepts that were already part of their legal system. It was also a method dispute resolution familiar to the Indigenous peoples of the Great Lakes-St. Lawrence River region a century later, when an arbitration clause was written into the Great Peace of Montreal of 1701 and used soon afterward, at the request of Indigenous leaders.  The role of arbitration in Indigenous law is often underappreciated, and any new codification of Indigenous law should include the use of arbitration. It was clearly a traditional method of resolving disputes, at least with respect to disputes between allies.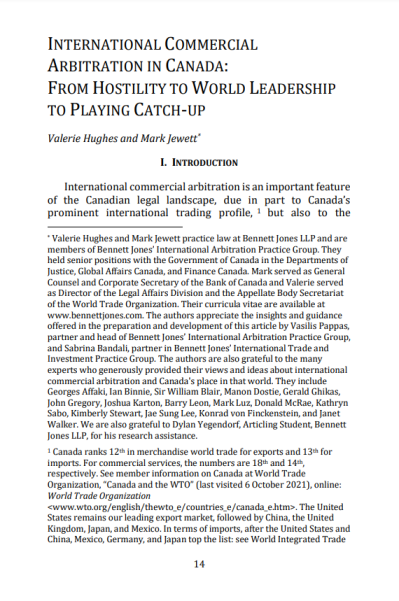 Author

Valerie Hughes and Mark Jewett

Pages

14 – 70

Abstract

International commercial arbitration is an important feature of the Canadian legal landscape, due in part to Canada's prominent international trading profile, but also to the legislative and judicial encouragement of arbitration in this country. Canada has been described as a "world leader in arbitration law" with a "thriving community of dedicated practitioners, scholars, and arbitrators." Canadian court decisions number amongst the highest in the United Nations database of arbitration caselaw.  Moreover, Canada is home to many of the world's leading arbitrators – Henri Alvarez, Ian Binnie, L. Yves Fortier, David Haigh, and Marc Lalonde, to name only a few.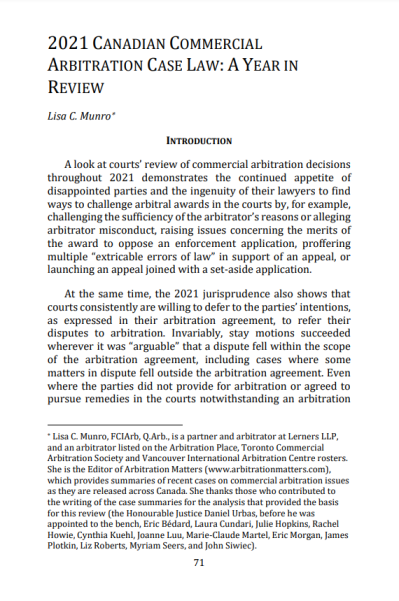 Author

Lisa C. Munro

Pages

71 – 91

Abstract

A look at courts' review of commercial arbitration decisions throughout 2021 demonstrates the continued appetite of disappointed parties and the ingenuity of their lawyers to find ways to challenge arbitral awards in the courts by, for example, challenging the sufficiency of the arbitrator's reasons or alleging arbitrator misconduct, raising issues concerning the merits of the award to oppose an enforcement application, proffering multiple "extricable errors of law" in support of an appeal, or launching an appeal joined with a set-aside application.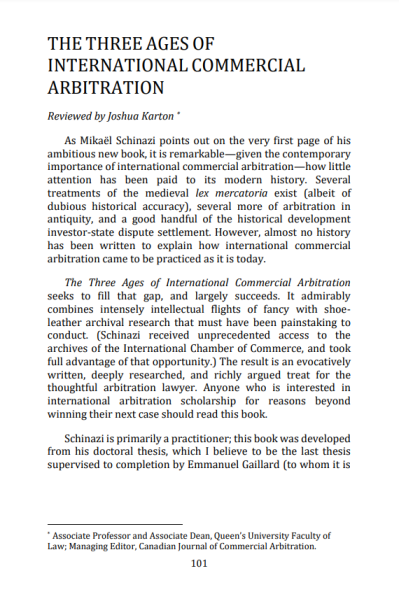 Author

Joshua Karton

Pages

101 – 107

Abstract

As Mikaël Schinazi points out on the very first page of his ambitious new book, it is remarkable—given the contemporary importance of international commercial arbitration—how little attention has been paid to its modern history. Several treatments of the medieval lex mercatoria exist (albeit of dubious historical accuracy), several more of arbitration in antiquity, and a good handful of the historical development investor-state dispute settlement. However, almost no history has been written to explain how international commercial arbitration came to be practiced as it is today.